83

bought
The deal is closed.
Tipped at 11:24:19 AM with 2 bought
The Fine Print
•Limited number available
•Deal applies online only
•For product queries email: info@redchillideals.co.za
•Picture is a display of use. Actual product may vary
•Terms and Conditions apply
* All orders placed on or before the 11th December 2019 will be delivered before Christmas and orders after the 11th December 2019 will be delivered in the second week of January 2020
Highlights
Analogue, retro-style flip clock
Keeps time with digits which flip down every hour and minute
A trendy decorative focal point for desks, bookshelves etc
*Requires 1 x D Battery to operate. Batteries not included.
Please allow 10 days delivery
Description
Today we take knowing the time for granted. History tells us that the ancient Egyptians, Greeks, and Romans had it more difficult telling the time with the use of sundials and water clocks. Only until the 13th century, we were introduced to the first version of the mechanical clock. Hundreds of years later in the 18th century clocks were still limited to the wealthy as they were very expensive.
Fast forward to the 21st century, the Retro Flip Desk Clock which would have only been available in the homes of the super-rich is now available to you! 
The analog Retro Flip Desk Clock physically flips down the numbers for the clock to work. The clock is set to work with am/pm and is gear operated in a similar way clocks used to work in the times of Great Gatsby. 
Add this time-telling statement piece in your home, office, or bookshelf and add an element of 18th century class and style into your space. Get the Retro Flip Desk Clock today!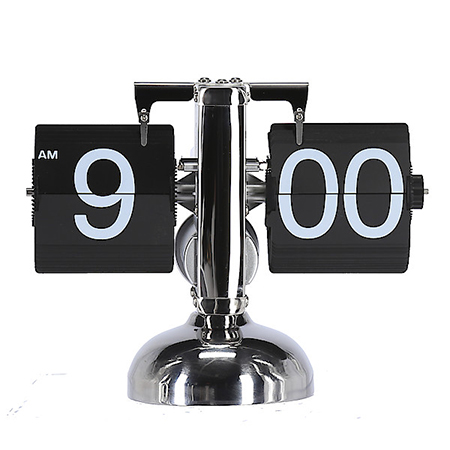 JOIN NOW
and never miss out on another hot deal again!