The Fine Print
•This deal includes 1 x Mini Cable And Accessory Organiser and 1 x Pocket Series 5000mAh Power Bank
•Limited number available
•For all redemption, delivery and product queries email: info@redchillideals.co.za
•Picture is a display of use
•Terms and Conditions apply
Highlights
Mini Cable And Accessory Organiser
Cationic waterproof fabric for better protection
Multi-layered storage
Perspective net design
Net bag isolation to avoid entanglement
Increased storage space
Portable carry handle
Small and lightweight
You can choose the preferred colour on the checkout page
If the colour you choose is not available a random colour will be sent
Please allow 10 working days for delivery
+
Pocket Series 5000mAh Power Bank
Capacity: 5000mAh
Input: 5V 2.1A
Output: 5V 2.1A
Size: 93*42*21.5 mm,
Weight:146g
Allow 10 days for delivery
Description
Get your cables and tech accessories organised in 2020 with this versatile, lightweight, and easy to carry Mini Cable And Accessory Organiser. The outer material consists of a cationic waterproof fabric for better protection from the elements.
On the inside, it boasts multi-layered storage and the net bag isolation compartments helps to avoid entanglement of cables. Get organised and grab your Mini Cable And Accessory Organiser today!
Pocket-size
The AUKEY Pocket 5000mAh Power Bank is so small you can slip it into the coin pocket of your jeans and forget it's there until you hear your phone's low battery notification. Plug-in to charge or recharge at up to 2.1A. Stay in the know with a 4 LED power indicator, and charge in style with the smooth matte black finish of the Pocket 5000mAh Power Bank.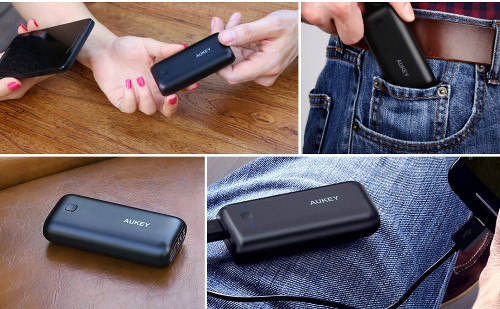 Universal Compatibility
Designed to work with all popular USB powered devices from iPhones to Android phones, iPads, photography gear, Bluetooth speakers, headphones, and more. Whatever USB powered gear you've got, we've got you covered.
AiPower Adaptive Charging Technology
Tuned to support healthier battery function and faster USB charging speeds, AiPower intelligently adjusts power output to match the unique charging needs of all your USB powered gear. Advanced circuitry and built in safeguards protect your devices against excessive current, overheating, and over charging.
Join with us and get best deal.
Subscribe to our newsletter and enjoy great discounts.